NSM0-2CF (0 cobalt and no praseodymium neodymium containing copper (C) iron (F))
NSM0-2CF (0 cobalt and no praseodymium neodymium containing copper (C) iron (F))
Specifications of Type Anode Hydrogen Storage Alloy Powder
1. Molecular formula, chemical composition and control range
1.1 MmNi4.13Mn0.93Fe0.17X0.37
1.2 Composition of main elements and impurities(wt.%)
Element name

Mm

Ni

Fe

Mn

X(Interstitial alloy)

Composition range

29.9±0.8

margin

2.0±0.2

11±0.5

5.0±0.5

Impurity name

Zn

Ca

Mg

O

Impurity content

≤0.15

≤0.005

≤0.015

≤0.12
2.performance
2.1 Electrochemical performance
| | | |
| --- | --- | --- |
| Property name \ Test standard | 0.2C | 1C |
| Discharge capacity(mAh/g) | ≥290 | ≥260 |
| Cycle life (times) | / | ≥300 |
2.2 Hydrogen absorption and desorption performance
80℃ Hydrogen release equilibrium pressure(H/M=0.4): 0.12 ± 0.05MPa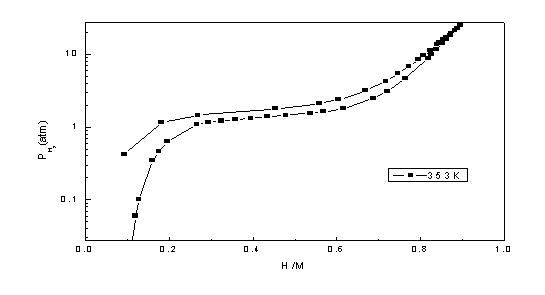 3. Commonly used dry and wet process applicable particle size specifications and bulk density
Applicable process

Granularity interval

D50(μm)

Bulk Density(g/cm3)

+120

-150

-200

-300

-400

Dry method (150 mesh)

0

≥90

50-70

35-50

≤30

80±5

3.3±0.3
Applicable process

Granularity interval

D50(μm)

Bulk Density(g/cm3)

+150

+180

-200

-300

-400

Wet method (200 mesh)

0

≤2

≥90

55-75

30-50

55±5

3.1±0.2
Note: The above are only the two most commonly used particle size specifications. We can provide products with other particle size specifications according to customer specific requirements.
4. Recommendations
This type of alloy is a cobalt-free product, with low price and excellent performance.
This type of alloy powder is suitable for the production of low-cost batteries to replace Ni-Cd batteries.
Note: Due to different processes, the above test results and parameters are only a reference for the design of the final battery product.
Scan the QR code to read on your phone
We could not find any corresponding parameters, please add them to the properties table